"RIDGEVIEW FARMS JACK FROST"
"RIDGEVIEW FARM'S JACK FROST" (Jake)
OFA RATING - Hips Good, Elbows normal, Eyes cleared -
Optigen A-1....Jake has sired two very nice litters.
See pic below, along with Jake's Pedigree.
HERE'S "JAKE" GOING WINNER'S DOG AND BEST OF WINNERS IN TOPSFIELD, MA. AT THE NORTHSHORE KENNEL CLUB DOG SHOW !!
BEST PUPPY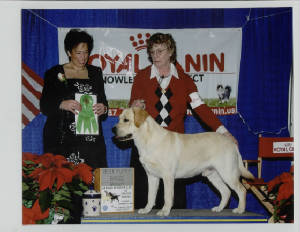 LABRADOR RETRIEVER CLUB OF GREATER BOSTON
THIS IS A TYPICAL JAKE PUP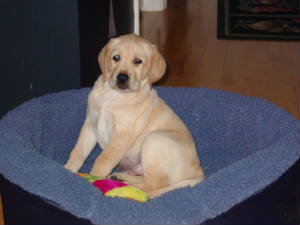 "NOAH DOORMEN"
Pedigree for "Ridgeview Farms Jack Frost"
Labrador Retriever - Yellow
SR14485001
Date Whelped: 01/11/2004
Breeder: Lynn K. Thomas/Francess M. Plessner
Sire
CH Belle Tradition OBroad Reach MH SN36976907 (06-98) OFA24E OFEL24 CERF86 BLK AKC DNA#V39955
Sire
CH Dickendall Arnold SF639713(04-96) OFA25G CERF137 BLK DNA #V33655
Sire
CH Dickndalls Ruffy SH SE717938 (01-88) OFA26E CERF156 BLK DNA #V33657
Dam
Dickendalls A-HA SE427129 (07-87)BLK
Dam
CH Broad Reach Blossom
SM83206203 (01-93) OFA27G LFEL28 YLW
Sire
CH Marchland Blitz SE116155 (06-85) OFA41G BLK
Dam
CH Broad Reach's Amber Mist CD SE758261 (10-88) OFA51G YLW
Dam
Ridgeview Farm Puddleduck Keeper,CD JH
SN85721101 (09-03) OFA28G OFEL28 YLW
Sire
CH Cricklwood About Face
SN31700905 (12-96)OFA29G OFEL29 CERF81 YLW
DNA #V56762
Sire
CH Blackdux Knight Moves JH SN08359101 (09-94) OFA24G OFEL24 CERF124 BLK
DNA #V22081

Dam
Cricklwood Connivan SF585783 (09-92) OFA27E OFEL27 CERF64 YLW
Dam
Ransom's Annie of Ridgeview Farm CD SH
SN31925403 (11-01) BLK
HIPS LR85085E 24F
LR EL5897F24
LR15768
Sire
Dickendall Buckstone Remembr JH SN10487002 (10-95) OFA44G BLK
DNA #V153432
Dam
Ransom's Perpetual Promise CDX MH SG019134 (03-95) OFA26G CERF98 YLW
This pedigree page was built for free at SitStay.com