IN MEMORIUM TO A LOVELY DOG GONE TOO SOON.
REST IN PEASE "DUBBYA"
2002 - 2013
"WB" HAS MULTIPLE BEST OF BREED WINS!!
AND A SPORTING GROUP 4 !
GO, "DUBBYA"
"RIDGEVIEW FARM'S WB, CD, JH"
SR00137501 D.O.B. 01/08/02
Sire: CH Cricklwood About Face
Dam:Ransom's Annie of Ridgeview Farm,CD,SH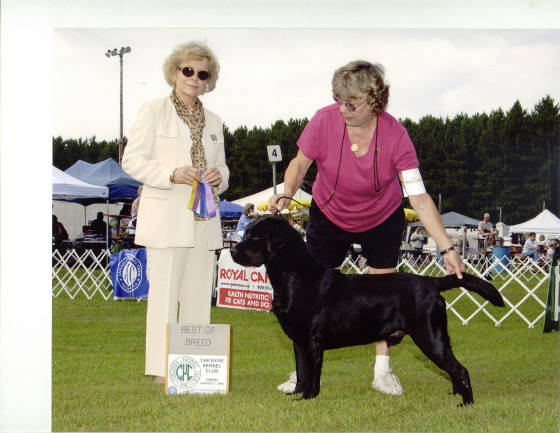 Ridgeview Farm's WB, CD,JH, CGC
"POTOMAC - PARADE OF TITLEHOLDERS"
RIDGEVIEW FARM'S WB, CD, JH, CGC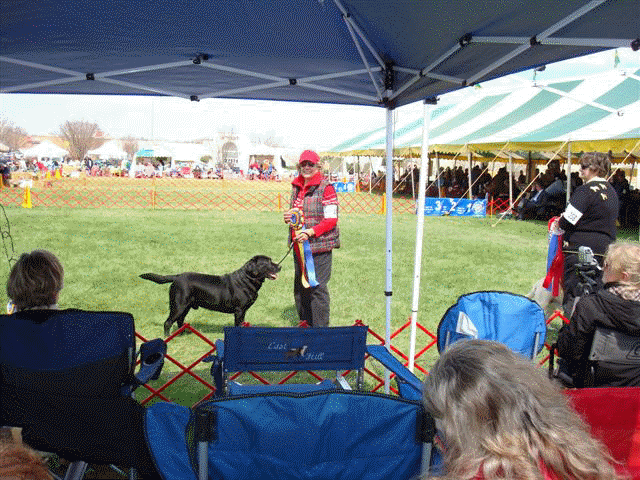 15 MONTH CANCER SURVIVOR
BEFORE RETIRING FROM THE SHOW-RING, "DUBBYA" WON 3 BEST-OF-BREEDS AND A GROUP 4
(ALL OWNER-HANDLED)
THESE ARE WONDERFUL MEMORIES WHICH WILL LIVE ON FOR YEARS.
WB's PEDIGREE:
Pedigree for Ridgeview Farm's WB, CD, JHLabrador Retriever
Sire
CH Cricklwood About Face
SN31700905 12-96 OFA29G
EL29 Cerf69 YLW
DNA PROFILE:V56762
Sire
CH.Blackdux Knight Moves JH
SN08359101 9-94 OFA24G EL24 CERF90 BLK DNA:V22081
Sire
CH Chelons Mac The Knight CDJH SF817231 7-91 OFA30E EL85 CERF138 BLK DNA:V28196
Dam
Blackdux French Vanilla
SF464231 8-90 OFA45F YLW
Dam
Cricklwood Connivan
SF585783 9-92 OFA27E
EL27 YLW
Sire
CH Finchingfield Ivan of Oaklea
SC867386 1-84 YLW
Dam
Janrow's Shady Lady
SE358983 7-88 BLK
Dam
Ransom's Annie of Ridgeview Farm, CD, SH
SN31925403 11-01
OFA Excellent EL-Normal BLK
Sire
Dickendall Buckstone Rembr JH
SN10487002 10-95 OFA44G DNA:V153432
BLK
Sire
CH Mallards Flying Cloud of Jan Rod
SE554502 1-88 OFA24G BLK (SWE)
Dam
Buckstone Reveille
SF904511 1-94 OFA30G
BLK
Dam
Ransom's Perpetual Promise CDX MH
SG019134 3-95 OFA26G YLW
Sire
CH Marshland Blitz
SE116155 6-85 OFA41G
BLK
Dam
Ransom's Perpetual Pursuit CDX MH
SE347208 2-89 OFA25G
YLW
This pedigree page was built for free at SitStay.com